April 11, 2016
From Preference Rights to Grazing Allotments: Why Ranchers Own their Allotments


By Angus McIntosh PhD, Director Natural Resource Law & Policy Research, Land And Water USA Foundation
There are a lot of US Supreme Court decisions on the subject of "pioneer rights", or settlers' rights of "possession" or "occupancy" and "use". The case that specifically refers to "pioneer rights" is Lamb v Davenport, 85 US 307 (1873). Click here to continue.
March 26, 2016
When:
      Friday, April 22, 2016, 1:30-5:00 p.m.
Where:
      Black Oak Casino
      The Conference Room
      19400 Tuolumne Road North
      Tuolumne, CA 95379
You're invited to attend this important meeting to learn about water, grazing and ingress/egress rights as determined by the U.S. Supreme Court on USFS/BLM grazing allotments. Know your rights, know the law and act within them. Understand the difference between a permit and an allotment. Please make every effort to attend. Click here to continue.
March 24, 2016
Regarding the USDA Civil Rights letter:
We just got back from Washington D.C. we testified before Congressional Committees and membership, on Forest Service allotment owner issues with regard to the recent USDA Civil Rights Reports. This report identified 36 Findings of Violation against the Forest Service Agency in Regions 2 and 3. Click here to continue.
September 22, 2015


New Report Underscores Importance of Water Rights System
Why the Doctrine of Prior Appropriation Works in the West
What if someone suggested to you a new policy-a policy that would result in less food production, a loss of state's rights for more federal control, less water for your household, for migratory birds and economic activity, and spawn endless lawsuits? Click here to continue.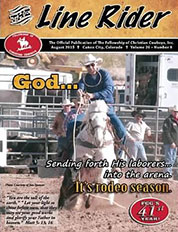 Click here for the August 2015 Issue of The Line Rider, the Official Publication of the Fellowship of Christian Cowboys, Inc.

Click here for the May 2015 Issue of The Line Rider, the Official Publication of the Fellowship of Christian Cowboys, Inc.

March 19, 2015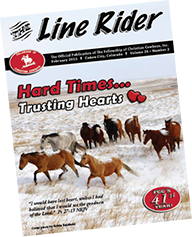 February 2015 Issue of The Line Rider, the Official Publication of the Fellowship of Christian Cowboys, Inc.
February 5, 2015
You'll love this article/photo by Trent Loos... from Truth Be Told
Exploding the myths, misconseptions and untruths about American agriculture.
As a 6th generation United States farmer, I have had my fill of people talking about "humanely raised meat" when they don't have a clue.
As a person who, in my 48 years on this earth, has provided daily care for more than 1 million animals, I think I am qualified to address the topic. Click here to continue.


Opinion Mailbox January 31, 2015
There's lots to think about before bison roam free by Roni Bell Sylvester
Seeing free-roaming bison in Colorado conjures a delightful image, but before proceeding to image realization, the following must be determined.
January 30, 2015
Request to Kansas Sen. Pat Roberts to keep COOL
Dear Sen. Roberts,
I am asking you to reconsider your position against Country of Origin Labeling. Consumers and producers support this law without any question. Click here to continue.
Mike Schultz
419 Sixth St.,
Brewster, Kansas 67732
Mobile 785-462-1447
December 16, 2014

Lummis Fights Executive Amnesty

Dear Friends,

Last night I voted against the funding bill. The House passed it and chose to fully fund the government through October except funding for the Department of Homeland Security which will end in February. Click here to continue.
December 8, 2014


The Line Rider, November 2014
The Official Publication of The Fellowship of Christian Cowboys, Inc.
September 27, 2014


Feds Renege on Promise to Pay for Feral Horses
Stiff Farmers, Ranchers for Millions of Dollars over 20 Years on
Granite Mountain Open Allotment Deal By Gene J. Koprowski

Despite an interim agreement reached 20 years ago during the Clinton era with ranchers who have property near the Granite Mountain Open Allotment (GMOA), adjoining Jeffrey City, Wyo., and continued petitions to the Secretary of the Interior, the U.S. government is refusing to pay millions in promised compensation for feral horses grazing on private property ... click here to continue.
June 13, 2014


THE DRAKES BAY OYSTER FARM BATTLE - TOUCHES UPON FUNDAMENTAL ISSUES OF VITAL INTEREST TO RURAL AMERICA NATIONWIDE - Rural Americans should follow this story.
Drakes Bay Oyster Farm is on the front line of the battle to Defend Rural America. It is currently petitioning for a Supreme Court review. It is very important that they win.
Kirk MacKenzie
www.DefendRuralAmerica.com
May 30, 2014


Endangered Species Act in the Spotlight
Alliance Report Coincides with D.C. Focus on ESA
May 6, 2014
2012 Census of Agriculture reveals new trends in farming - USDA Reports Record Sales Moderated by Rising Expenses
ANIMAL WELFARE:


December 4, 2013
PRCA LIVESTOCK WELFARE UPDATE
PRCA Members and Supporters,
This update is intended to keep the rodeo industry up-to-date on important animal issues. By working together and staying abreast of animal rights/animal welfare issues the rodeo industry can continue to thrive. Click here to continue.