April 19, 2016


WATER QUESTIONS FOR COLORADO LEGISLATORS



Dear Representative's Vigil and Coram, Senator Scott.
House Members of the Agriculture, Livestock & Natural Resources Committee.
We neither oppose or support HB16-1337. For as it stands, we believe it begs answers to the following critical questions before any Yes or No vote can be made.
Click here to continue.

April 14, 2016

Hage Set to Appeal Ninth Circuit Ruling in Forage Right Case to U.S. Supreme Court; Western Water Law Hangs in the Balance

In January, a three-judge panel of the Ninth Circuit Court of Appeals, Susan P. Graber, Kim McLane Wardlaw, and Mary H. Murguia, Circuit Judges, in an opinion by Judge Graber, handed down a decision reversing all of the findings of Nevada Federal District Court Chief Judge Robert C. Jones in his 103-page decision in U.S. v. Hage (2007). Judge Jones had found among other things that government officials had "entered into a literal, intentional conspiracy to deprive the Hages not only of their (grazing) permits but also of their vested water rights." The Court added, "This behavior shocks the conscience of the Court and provides a sufficient basis for a finding of irreparable harm…" Click here to continue.
November 15, 2015
"Water's for Fighting"

with Roni Bell Sylvester from Land and Water U.S.A.
September 22, 2015


New Report Underscores Importance of Water Rights System
Why the Doctrine of Prior Appropriation Works in the West
What if someone suggested to you a new policy-a policy that would result in less food production, a loss of state's rights for more federal control, less water for your household, for migratory birds and economic activity, and spawn endless lawsuits? Click here to continue.
September 19, 2015
Letter to LAW USA
S. Platte debris by Ken Keil
I was listening to Mandi on 630 KHOW Friday morning, Sept. 18, 2015, and she said Hickenlooper announced he wants to make Colo. the best state in the nation for biking and wants to throw $100M towards this goal. 1st of all, what I am about to say, I have no intention of throwing salt at a wound. Click here to continue.
August 18, 2015


Attorney Lawrence Kogan arrives to Flathead Valley, Montana to
highlight all that is wrong with the CSKT Water Compact.
Speaker says Water Compact part of conspiracy
At Altitude Bar and Grill, St. Ignatius, Montana - Trip Burns Lake County Leader
In the basement of the Altitude Bar and Grill in St. Ignatius Tuesday, over 50 people gathered to hear New York attorney Lawrence Kogan speak out against the water compact between the Confederated Salish and Kootenai Tribes and the state of Montana. Click here to continue.
August 12, 2015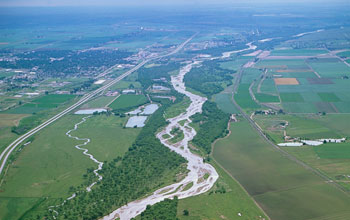 Fraudulent Water Accounting
Letter Regarding: Fraudulent Water Accounting Complaint as pertains to the South Platte River in Colorado - Charles W. Sylvester - July 6, 2015

August 8, 2015
EPA deletes "navigable" from statute – states sue
Environmental Protection Agency flooded with lawsuits over controversial water rule


Ron Arnold

Twenty-nine states, more than half the stars on the American flag, have filed lawsuits against the U.S. Environmental Protection Agency for redefining the "Waters of the United States," or WOTUS. EPA rewrote the law, erasing "navigable" and usurping states' rights by including local seasonal streams, farm irrigation ponds, roadside ditches, and even "connective" dry lands placed under authority of the Clean Water Act.
The WOTUS rule, published the morning of June 29, potentially subjects every food, energy, transportation and manufacturing industry in the nation to high-handed regulation by one of the most reviled and least trusted federal agencies, dreaded for its cadre of "revolving door" officials hired from anti-industry green groups. Click here to continue.
May 13, 2015
Questions regarding the S. Platte River by Roni Bell Sylvester
1) 2005/2006 Lower end (junior) of S. Platte River claimed, "upper end (senior) took our water, caused depletions, now we don't have any water." Regardless the fact lower end did not have to prove harm, Judge Roger Klein still ordered upper end: shut down wells (deny senior owners use of their property); augment at 100% (unattainable); make up for past depletions going back to 1975 (Where were water engineers during that 30 year time span?). Click here to continue.

See also

Platte River Research Cooperative Agreement: Reconnaisance - Level Water Action Plan

January 13, 2014
Vested water rights -
Whose Water Right is it?
LandAndWaterUSA.com

In addressing Water, it must first be recognized as someone's *Vested Property Right.

Legal ways Water is known to be Property: It is bought, sold, conveyed and stolen, and is taxable by state.

Therefore, the first question that must be answered before proceeding in any public or private matter as pertains to Water, is: "Whose Water Right is included?"

Water Rights included in a Water discussion should be identified and Owners present.

Click here for individual pdf pages to view and print

Click here to print out in booklet form
September 8, 2014
Update on vested water by Roni Bell Sylvester

FROM THE VOLUNTEER EDITOR ... Roni Bell Sylvester
Since I wrote "Solutions" (following) in July of 2012, Dr. Reagan Waskom completed the HB 1278 Study, we offered a draft to Reaffirm South Platte River Vested Water Property (following) and our farm and home were flooded out. Click here to continue.

August 21, 2014


Whose Water Is It? Liberal Attorney Claims 'The State' Owns All South Platte River Water. Colorado Governor's Office Points Out That's Not The Law. By Gene Koprowski
A leading liberal Colorado water rights attorney is claiming that "the state" government owns all of the South Platte River's water. But the water czar for the state's Democratic Gov. John Hickenlooper is pointing out that that opinion is not the law, and is citing references to statutes, and case law, that inform his stance in correspondence with Land And Water USA.
During a meeting of the South Platte Basin Round Table meeting last week, noted left-leaning attorney, Michael D. Shimmin, a partner in the Boulder-based firm Vranesh and Raisch, LLP, was responding to a question by rancher Chuck Sylvester. Sylvester asked the open forum exactly who was the beneficial owner of the water, when the river level was high, or when it was low. In response, Shimmin excitedly exclaimed, "the state."
The counselor did not elaborate, but observers said there was a stunned silence in the room after the on-the-record comment, made during the public forum. Shimmin lists the South Platte Basin Round Table and the Colorado Interbasin Compact Committee among his "professional affiliations" on his official biography. The South Platte Basin Roundtable lists Shimmin as an "at large" member.
Shimmin did not respond to an e-mail asking him to elaborate on the opinion by a Land and Water USA reporter.
Not an Academic Question. Click here to continue.
August 7, 2014
Vested Water Property
After having attended and testified on matters as pertains to Water, we've observed a glaring absence of finding out whose Vested Water Property (Property) is being discussed. What is the purpose of a Water meeting without knowing the Property and date of appropriation being discussed? Click here to continue.

Roni Bell Sylvester LANDANDWATERUSA.com
July 20, 2014
Water is a Vested Right
Our guest:

Roni Bell Sylvester LANDANDWATERUSA.com
July 20, 2014
Roni Bell Sylvester – Water Politics, Rights, and Confiscation - It's Rainmaking Time! Amazing Breakthroughs, Conversations, & Discoveries for Everyone


Roni Bell Sylvester is the founder and volunteer editor of Land and Water USA and a former 2014 Republican gubernatorial candidate in the State of Colorado. In addition to being a well-known speaker at the Colorado State Legislature, where she has frequently testified on water and agricultural issues, she is a mother, a wife, a rancher, and a self-described "farm girl". Roni Bell Sylvester is a passionate champion of private property rights in the United States of America, including the beneficial use of water as a vested property right. Click here to continue.
June 28, 2014
Witnesses Agree Proposed Water Rights Regulations Continue the "Obama Knows Best" Water Policies
Letter to USDA Urges Withdrawal - WASHINGTON, D.C., June 24, 2014 - Today, the House Natural Resources Subcommittee Water and Power held an oversight hearing on "New Federal Schemes to Soak Up Water Authority: Impacts on States, Water Users, Recreation, and Job's." The hearing examined recent actions by the Obama Administration to turn over longstanding water rights and eliminate multiple land and water uses on and off federal lands. Click here to continue.
April 17, 2014
HB 1332 Water Management in the South Platte Basin - HB 1278 – Study of the South Platte River Alluvial Aquifer.

Compiled by Roni Bell Sylvester (970) 284-6874 RoniBell@msn.com
May 13, 2014
Water Under and Over the Bridge! - Water, The most critical issue facing Coloradans today.
Looking for answers to questions surrounding the handling of Water in Colorado? So are we! In the spirit of "your right to know," LAW USA shares the following letters. Thus far, our research reveals an interwoven web of entities that are using an ingenious formula of water court and engineering to manipulate Water right out from under its owners. Hereon, all correspondence updates will be posted. If you have any information that will remedy or enlighten, please email: LandAndWaterUSA@gmail.com - Charles and Ronita Sylvester, P.O. Box 155, LaSalle, CO 80645
December 14, 2013
Video: Food grows where water flows - Published on Oct 20, 2013
In 2013 dozens of farm-related businesses in California's Central Valley gathered to show support for the farmers who drive the rural economy. "Central California Businesses for Farmers" came together in a 95-acre alfalfa field with the people and equipment they use to support farming activities. Without dependable supplies of irrigation water farms simply can't produce the fresh fruits and vegetables, feed and fiber products that create hundreds of thousands of jobs throughout California.