LOOKING FOR ANSWERS
SEARCH ARCHIVES
THE U.S. CONSTITUTION

Honor Flight: Have you heard about Honor Flights? If not, please, click here! Then get involved!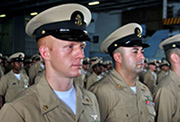 Subject: Heartfelt thank you's to all our young servicemen and women who protect us. Please note, James Frost is the son of LAW USA's Contributing Educator Ric Frost.
RECOMMENDED READING
May 15, 2013

The Circus
- - - - - - - - - - -
Archives
- - - - - - - - - - -
April 25, 2013
We've learned the Dairy Industry is lobbying the FDA to add Aspartame to dairy products:
"Sum of Us notes that both the dairy industry and the FDA's "Goal is to turn the wholesome drink into another artificial flavor-laden sweet snack." Not a good plan considering how much sweet stuff kids get nowadays. Plus, some research says aspartame poses a danger(the artificial sweetener is linked to leukemia and lymphoma). Other research and organizations, including the American Cancer Society, say it's just fine. Danger or not, it's probably safer to skip artificial sweeteners so that kids can learn what real food tastes like."
Some things you need to know about the artificial sweetener "Aspartame."
QUESTION ... Your conclusion could win you a $100 coupon to be redeemed at a restaurant of your choice! Please click here. Knowing what constitutes your property is the most important knowledge you should have today! -
Roni Bell Sylvester - Volunteer Editor
---
An excellent resource!

Principles of Liberty
www.princ
iplesofliberty.org
The Legislative Analysis Project is a Principles of Liberty creation that analyzes legislation according to the Core Principles.
---
Land and Water USA (LAW USA) is an all volunteer effort! We do not solicit or receive government subsidies or corporate funding. How many entities can say that?




Your volunteer editor,
Roni Bell Sylvester
---
Want to keep up with your state lawmakers? Click here for links
"The Power Line" e-newsletter from: Citizens' Alliance for Responsible Energy
KNOW YOUR RIGHTS!

Don't let ANYONE bully you!
Is someone trying to co-op your image? Tromping around trespassing on your property? Pretending your property is theirs by using it in their brochures? Is a government employee trying to bully you into letting them on your property? Do you know that NO ONE and NO AGENCY, STATE OR FEDERAL, is above the law? Click here.
We the People- NOT government - OWN federal lands. We the People hire government employees to "manage"- NOT "control" - these lands. Through chain of title and beneficial use, historic law supports the fact that some users of federal lands have long established historic rights that have never been extinguished.
These rights include ownership of water and forage, and possibly even the land. Federal employees have the legal responsibility to obey the authority of those who have said ownerships, and not the reverse. LAW USA
April 29, 2013
"Never Underestimate the Power of Freedom"


Ron Ewart
April 21, 2013
EPA's Tier 3 tyranny
High cost, no benefit does nothing to forestall agency's quest for ecological utopia

Paul Driessen

April 21, 2013
WOLF POLICY IN AMERICA – 2013 & BEYOND
An outline of a talk given by Jim Beers on 13 April 2013 at The Spokane (WA) Citizen's Alliance for Property Rights' Fundraiser, "Wolves and Water."

By Jim Beers

April 21, 2013
How Rockefellers battle the Keystone pipeline
Rockefeller billions vs Canadian energy and sovereignty – and US jobs, security and families
Ron Arnold
April 21, 2013
Vecchio Healthcare Policy Brief!!
As you may or may not know, I am a Healthcare Policy Fellow now for Centennial Institute here in Colorado. As such, my first Policy Brief has been released: "So You Want Affordable Care? Common Sense from a Practicing Physician"!! This focuses on Medicaid reforms on a state basis, but it could certainly apply to other states and ideas for real healthcare reform for the general population as well. There are other ideas to add when expanded to the general population, but this is where we chose to begin our discussion. It is a quick read, and meant to be understood by the average American. I hope you enjoy it and share it with your friends, colleagues, family and neighbors! Here is the link as well.

April 21, 2013
Can the Police Search My Home for a Bomber?


Today in Watertown, Massachusetts, law enforcement officials are going from house to house with trained SWAT team snipers drawing a bead on any occupants and instructing those occupants to exit the houses so the police can enter and search the premises.
Is this constitutional?
No.

April 12, 2013
Obama Wants to Raise Grazing Fees


By Roni Bell Sylvester (c) 2013

April 12, 2013
Greedy green land grabbers
Clean Development Mechanism" schemes drive out African villagers for "carbon offset" profits - Ron Arnold
---

What does Land and Water USA mean to you? Click here.
"... LAW means to me hope, allies in the battle, and not only information, but wisdom, insight and the courage to tell the truth! ..."- Cheri Steinmetz - Wyoming
April 29, 2013
Obama climate video stars GOP truthsayers - Source: SPPI Blog - By Christopher Monckton of Brenchley

Ricky Bishop, Roni Bell Sylvester, Lord Christopher Monckton, Dr. John Maulsby 20012
April 21, 2013
Climate Change in Homemaker's Language


Roni Bell Sylvester © 2013
April 8, 2013
Dr. Willie Soon - on the Mike Rosen show

- - - - - - - - - - - - - - - -


- - - - - - - - - - - - - - - -
OUR CONTRIBUTING EDUCATORS EVEN DANCE, PLAY FROGMAN AND DELIVER BABIES! Archives

Chuck Sylvester showing Willie how to "saddle up."

Chuck checking the stirrup length.

First go around the corral.

Yea! Willie made it!

---
LAW USA encourages private property owners to require each person (Whether government employee or private citizen.) who sets foot on your private property sign this Property Admittance Agreement (PAA).

It includes the language...
"Grantee does not have permission to share any activity (includes hunting, fishing, dirt moving) or material (includes land, water, structure, foliage, photography, electronic image or video) they see, with any government, government agent, government contractor, representative, private entity, non-profit agent, non-government public organization or non-profit private organization."

...out of consideration of that one, who comes on your property to be the eyes and ears for those who seek to seize control of your land and water. Here's proof: "I would appreciate hearing from any (land trust/conservation easement/interested public) who has a formal policy on the reporting (to a regulatory or non-regulatory agency) of listed (State and Federal) species that they discover during a site visit to a private property." (From a circulated email.)
---